Lazanija (it. Lasagna) –apkepas iš to paties pavadinimo makaronų lakštų.
Taigi, lazanija gali būti įdaryta mėsa, sūriu (rikota arba mocarela), daržovėmis, pomidoru padažu.
Šiandieninė mano lazanija turi tris komponentus, neskaitant pačių makaronų.
Įdarui reikės: bešamelio padažo, bolonijos padažo ir patroškintų pievagrybių.
Bešamelio padažas yra gaminamas taip. Keptuvėje (gilesnėje) ištirpinkite sviesto arba įpilkite aliejaus. Tada įdėkite pora kupinų šaukštų miltų, pakepinkite šiek tiek. Tada užpilate beveik litrą pieno ir kaitinate intensyviai maišydami kol sutirštės. Pagardinkite trintu muskato riešutu. Viskas, vienas padažas jau yra.
Bet aš čia kažkaip vos ne nuo antro galo pradėjau. Šį padažą geriau gaminkit paskutinį, nes jis vėsdamas tirštėja, o mums reikia, kad jis liktų jogurto konsistencijos.
Kitas padažas, kuriam pagaminti reiks kur kas daugiau laiko, gal net ir iš vakaro galima pasigaminti, tai Bolonijos padažas.
Susmulkinkite svogūną ir pakepkite puode su lašeliu aliejaus, tada galite įdėti mėgstamų prieskonių. Pakaitinti prieskoniai yra daug aromatingesni. Tada sudedate apie puse kilogramo mėgstamo faršo. Rekomenduoju maišyti kiaulieną su jautiena. Kai jau ir kiauliena šiek tiek "sukais" supilkite konservuotus pomidorus. Konservuotus renkuosi dėt to, kad jie žymiai aromatingesni nei žieminiai prekybos centro varguoliai. Turbūt žinote, kad konservuotiems pomidorams yra naudojami jau pernokę ir kitur nebelabai tinkami pomidorai. Bet užtai jie pilni vasaros aromatų ir net spinduliuoja kairios saulės šilumą. Rinkitės tokius, kurie be odelių. Taigi, visą šitą gėrį reikia kaitinti, karts nuo karto pamaišant, ant nedidelės kaitros apie pora valandų. Aš paprastai pirmiausia "užtaisau" šitą padažą ir kol darau kitus paruošiamuosius darbus, jis jau būna pasigaminęs.
Ir galiausiai patroškinti pievagrybiai. Juos tiesiog supjaustytus pakepu ant silpnos kaitros su svogūnais ir sviestu.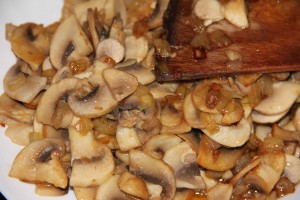 O dabar prasideda sluoksniavimas.Eiliškumas nėra labai svarbu. Pagrindinė taisyklė- pradedame nuo bešamelio padažo ir jį tepame ant kiekvieno makaronų sluoksnio. Tada lakštų nereikia apvirti ir jie būna minkštučiai. Todėl bešamelio pasigaminkit nemažai.
O čia mano sluoksniavimo pavyzdėlis:
Tada jau užbaigiam lakštais , supilam visą likusį bešamelį. Jei matote, kad jo mažokai – būtinai pasilikite pačiam viršui. Jau geriau tegu jo per vidurį nebūna. Ir tada užtarkuojate norima sūrį. Idealiai tinka tiek, kurie lengvai lydosi. Su puskiečiais arba kietais sūriais gausite stipresnį aromatą.  Ir pašaunate į orkaitę maždaug valandai, 180-190 laipsnių temperatūroje.
Dėkitės į lėkštes ir mėgaukitės!